How to Print your Yardage Chart
Get an accurate yardage chart for every project you create. Print your yardage chart for a binder or to share with a local quilt shop to see if they can fulfill the order. Here's how to print:
Go to My Projects.
Click the 3-dot menu under the project you want to print.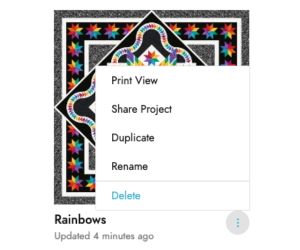 Click Print View
Under the image of your project you will see a little button with the symbol of a link. Click the link button to copy this page to your clipboard. 
Paste the link in an email, social post or wherever you wish. The recipient does not need to have a Quiltster subscription to view this page.
For more tips and tricks, visit the Quiltster Blog where you will find video and written tutorials. Or visit the Quilt Planner and click Start Here on the Dashboard to watch a video tutorial.
Start planning your next project with us today!