You will have a few weeks to create your project before ordering begins. The event coordinators at Quiltworx will send an email announcement to all attendees when it is time to place your order. Please do the following at that time:
Review Fabric Requirements
Open the Yardage Chart and view fabric requirements "By Fabric".
***Important Note: For Quiltworx University events you will need to WAIT until Ordering has officially opened to see accurate inventory availability.***
Once ordering opens, inventory quantities will begin to diminish as people start placing orders. Make sure the fabric you've chosen is still available in the right amounts to meet your project requirements. You can see this by opening the Yardage Chart and looking for little Green icons next to each of your fabric swatches.
You want to see the little GREEN SHOPPING CART or the little GREEN EXCLAMATION POINT. Green is good, that means there is enough inventory to make your quilt and it is okay to purchase your project.
Any other icons mean that there is not enough inventory to make your quilt. If that happens, you will need to choose a suitable replacement fabric prior to placing your order. Please watch the video below to learn how to do this quickly and easily.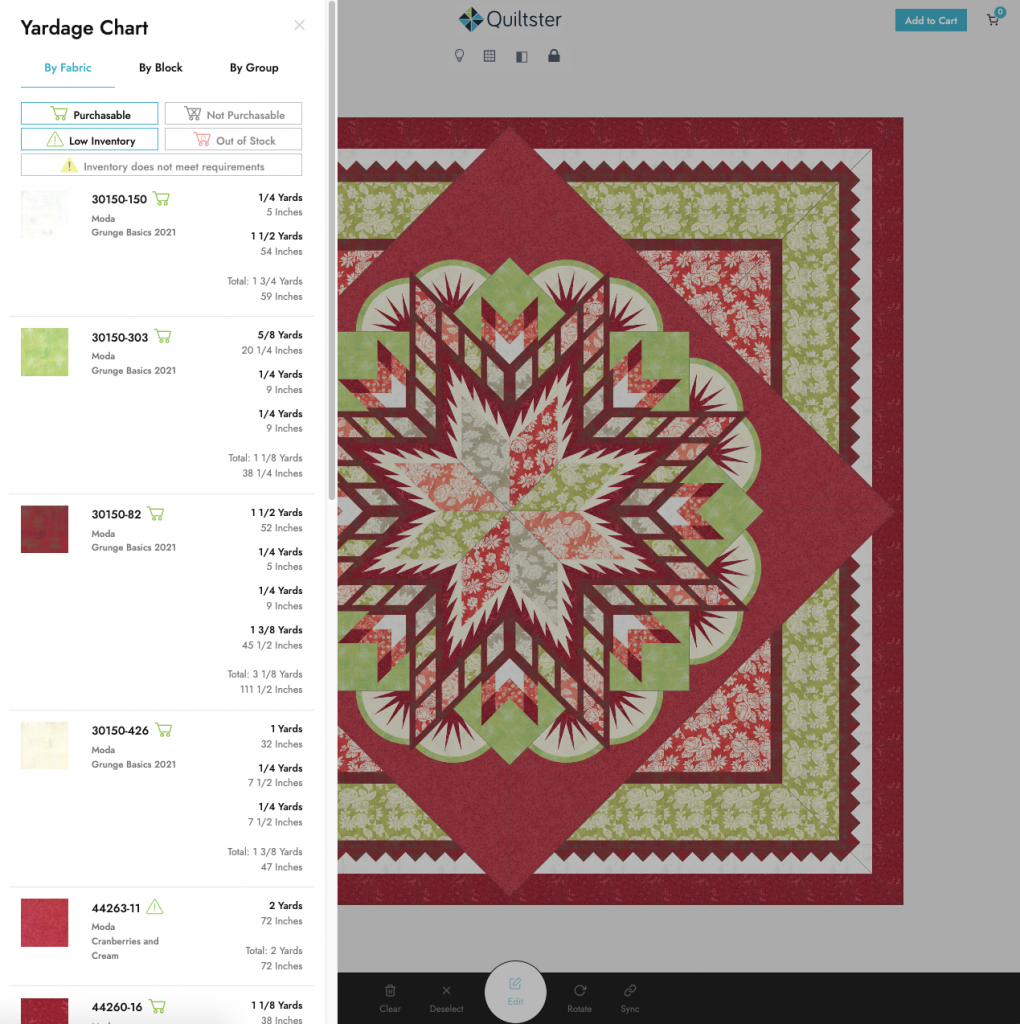 ---
---
---
---
---
How to Swap Out Fabric in Your Project
We recommend creating a duplicate of your project to keep record of your original colorway, then choose replacements in the duplicate project.
To swap out fabric, open the Yardage Chart, click on a fabric which will open a Fabric Stash, click on a new fabric to replace the old one.
Here is another video showing how to swap out fabric that may also be helpful. (skip to 2:46).
Place Your Order
Once you have verified all the fabric is in stock, place your order.
Click "add to cart".
Do a final review of what has been added to your cart
Place order.
Quiltworx administrators will review your order. You will receive an email notification once payment has been processed. At this time, the hosting Quilt Shop will cut your kit and have it ready when you arrive at the event location.