This is also called a "hard refresh" which lets you see the most recent updates made to a web page. Maintenance updates are published to Quiltster.com on a regular basis to keep the program in line with browser updates, security requirements, feature enhancements and more.
What does it mean to hard refresh and clear cache?
When you visit a web page, your browser, such as Google Chrome, stores a copy of that web page. That copy is stored on your computers' hard drive. This is called the cache. This allows the page to load more quickly during each subsequent visit.
Clearing your cache removes the saved copy, which may not include the most recent updates. The next time you visit that web page, you will save a new copy, including recent updates.
If you suspect you are not seeing the most recent version of Quiltster, we encourage you to hard reload then try again.
Page Refresh vs. Hard Refresh
A normal refresh is not the same as a hard refresh. A normal refresh is performed by clicking the little reload button (often looks like an arrow in a circle up by the address bar). Clicking the little reload button alone, means that you are asking the browser to check the cache and see if it matches the current state of the webpage you are visiting.
Some updates to your cache do happen but it will not send you everything that has been updated on that page. Go ahead try this but if you're still having issues, go ahead with a Hard Refresh.
How to Clear Cache
Google Chrome is the recommended browser to use when visiting Quiltster.com.
To clear cache using Google Chrome, hold down the Command, Shift and Delete keys at the same time. This will open the page you need in your settings.
Change the time range to "All Time" as shown below.
Check "Cached images and files". The rest can stay unchecked if you wish.
Click "Clear Data"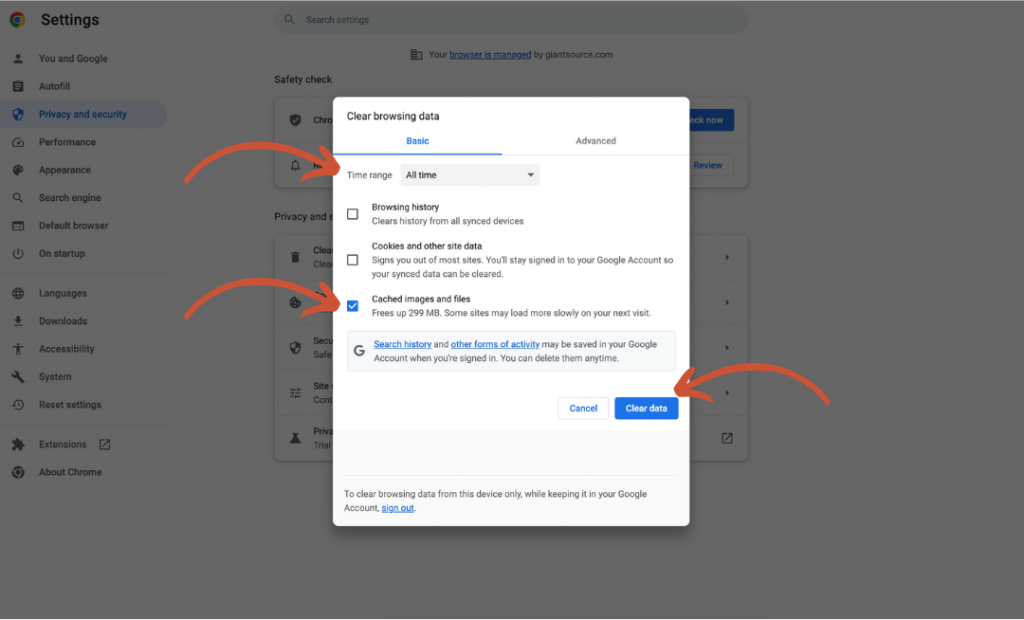 Once this is done, close/quit the browser and restart it.
Now go back to Quiltster.com and try performing the task again.
If you continue to have issues, please send in a bug report form to customer service and we will address the issue as soon as possible.
Click here to be taken to the full Google article about how to clear cache and cookies in Chrome and and other browsers as well.
Happy Quiltstering!