To create a truly unique colorway, some patterns (not all patterns) allow you to "unlock" the design for further customization beyond the what is called for in the pattern instructions.
At the top of the Quilt Planner page, there are a few little buttons. One of those buttons is a closed lock. Click the lock to open it (it will turn blue) and now you are ready to select your blocks.
Typically, a pattern that can be unlocked will have multiple block groups. As you add fabric to one block within a group, all other blocks in that group will mirror your selections making them all match. However, when you unlock the pattern, you may select one block (or more) at a time and choose to color them individually or in sets.
The video below walks you through these steps (no sound).
In the example below, there are 12 blocks in the center group. When one block is selected, all 12 blocks activate. When you color one, all 12 will follow suit to match.
When "unlocked" the blocks can be colored individually or multiple can be colored by activating any number of them at once. In the example below, one of the 12 blocks is activated to be colored by itself.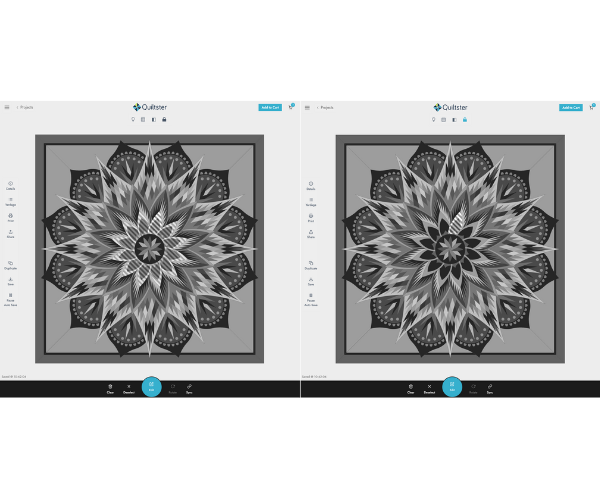 If you haven't subscribed, we invite you to do so now and join in the fun! Plan your next project with us at Quiltster.com.
Happy Quiltstering!