A coupon code is a special offer from a Quiltster event or on of our partnering Quilt Shops. They may be used towards a Monthly or Annual subscription or in some cases both.
How to Enter a Coupon Code
To redeem, go to Quiltster.com/subscribe and enter the code during the third and final step of the subscription process:
Step 1: Choose a monthly or annual subscription plan.

Monthly subscriptions are $9.99 per month and automatically renew every 30 days.
Annual subscriptions are $99.00 per year and automatically renew every 12 months.
Step 2: Create an Account.

Select New User if you've never had a subscription with us before.
Select Returning Customer if you've had a subscription with us in the past. You'll be prompted to log in using the same same email address and password used previously, which will reopen your account giving you access to all project you created in the past.
Step 3: Enter the coupon code followed by your billing information. Click Start My Subscription.
If you're new to Quiltster, visit "Getting Started in Quiltster" where you can watch a virtual tour and find links to tutorials and support.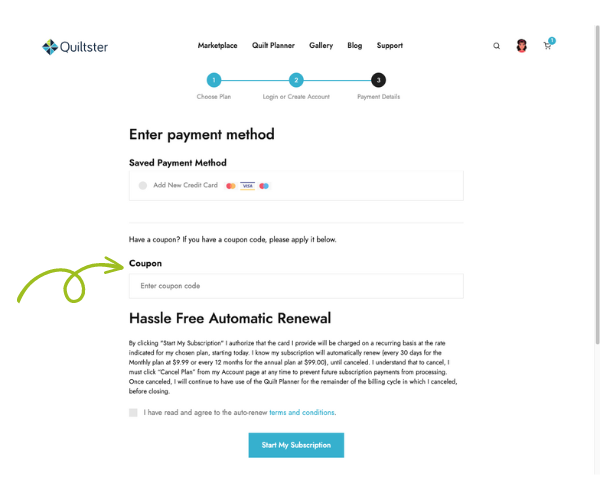 Pro tip: If you only want the program for one month at a time, sign up for the monthly subscription, then cancel your subscription the same day you subscribed (or any day prior to the next billing date) by clicking "Cancel Plan" on your Account page. This will prevent further billing but you will retain access for the remainder of the 30 day cycle. Then subscribe again the same email address to reopen your account and access old projects.
Thank you and happy Quiltstering!