There's a lot going on in the world and we think it's important to Take time to do a little more of what makes you happy! With that in mind, let's have a little fun!
In the month of October, we are holding a weekly Quilt Planner Challenge where we will provide a prompt specifying a color palette, pattern or fabric collection that you must use to create a project in the Quilt Planner then share it with us on Facebook.
How to Enter
Create a project in the Quilt Planner following the weekly prompt.
Share your project to the Quiltster Gallery.
Post your project to Facebook from the gallery page. Make sure to include the hashtag #QuiltPlannerChallenge and tag our Facebook page @thequiltster in order to be eligible. Make sure your post is public (or we won't be able to see it).
Enter as many times as you wish! There is no limit to your creativity!
How to Share Your Project to Qualify
How to Correctly Add the Quiltster Tag to Qualify
The #QuiltPlannerChallenge hashtag should be typed into your post as all one word with no spaces.
The @thequiltster tag is typed out as @thequiltster but will convert to a blue link. As you type it out, wait for Facebook to offer page options, then click on our page to connect the tag. The tag will turn into a blue highlighted link when it is done correctly.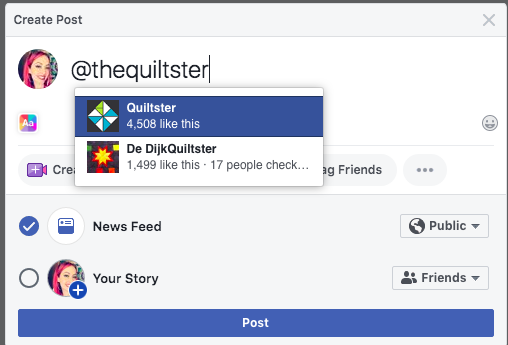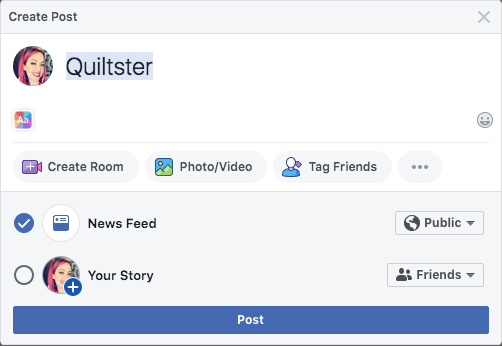 Prizes
One winner will be selected at random and will receive a $10 subscription credit (unless a different prize is specified for that week). Winners will be announced on Facebook the following week.
Rules
Eligible posts MUST follow all three "how to enter" rules exactly.
Up to three entries per person per challenge.
Entries must be shared by 11:59pm PDT on the end date. 
Entry Facebook posts must be public (or we won't be able to see it).
Contest is open to all Quiltster Members.
Neutrals may be used as accent colors for all challenges unless specifically noted in the challenge prompt for that week.
By entering this contest, you are authorizing Quiltster, Inc. to contact you via the email address on your Quiltster account.
Prizes cannot be exchanged or shared.
Subscription coupon codes will expire and must be used within the time frame outlined for each one.  No extensions will be made for unused coupons.
Each eligible post equals one entry.
No limit on number of entries. (for now!)
We reserve the right to amend these rules if there is an unforeseen issue in the future.
Thank you all for your loyalty and support! Let's have some fun!!!
Quilt Planner Challenges
Click the links below to find the current months challenge.